Our Spring

Windfall Doll is

finished. She is a bit taller than

our normal template

allows for, by simply adding an inch or so to the height. She is my most favorite by far.
She has been around for months. After Holly, but before Vivian.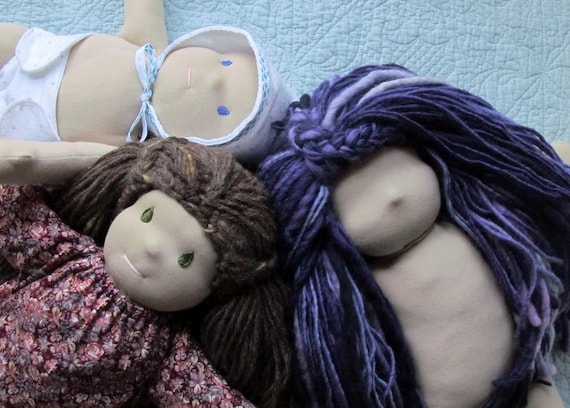 She has been waiting her turn to find a home.

Sitting in the doll closet (you can't really see her, but she is tucked into the corner on the right in the photo below). Patiently watching as all of her friends get faces and clothes and get ready to meet their new families.
And now it is her turn.
I went through several outfits for her. Should she wear one of regular doll dresses? Or perhaps a pair of pants and a shirt?
In the end, after my twin Laura made a pattern (and consequently a few new dresses) I had to look no further.
With the perfect combination of fabrics, I had found her outfit...plus a few fabulous accessories of course.
(sandles!).
Her hair is my favorite so far. A mix of a bulky single ply and worsted single ply purple yarn. It is uber-heavy, but absolutely stunning to be sure.
I am a bit concerned over the reality that I will soon be letting go of her.
But I will. Because I have no need to keep her. She will make some little one extremely happy and will fill their arms completely.
Just as she has filled my heart.
~:::::::::::::::::::::::::::::::::::::::::::::::::::::::::::~
Please stop by on Friday to see her completed!